October 2006 - Exploring Malta
This was our second holiday in 2006 and we had only one week to spend. We found Malta to be the ideal place to go for one week in autumn: Good weather, a lot of culture to explore and some nice places for snorkeling.
Due to the short duration of our holiday and Malta's good bus system, we decided not to take our own bikes with us, but to rent bicycles for a couple of days and go by bus the rest of the time.
The outward flight departed on October 5th, the return flight was on October 12th which allowed us 6 complete days on Malta.
Weather
For our purposes, the weather was almost ideal. We didn't care about the rain during the bus rides from Valletta to Bugibba on the arrival day and the day after, but kind of enjoyed the clouds and the drizzle while sightseeing in Valletta. Much better than sunshine without clouds. All other days were sunny with some clouds. The temperature was about 24°C, in and outside the water. :-)
For more detailed info on the climate, you may want to use the service offered by WetterOnline. Click on "Rückblick". Be aware, it is all in German.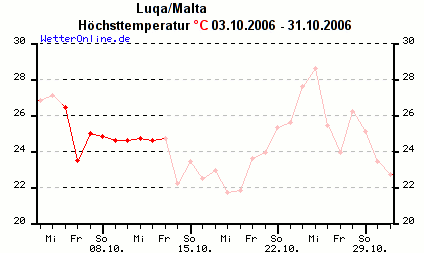 Language
The national language of Malta is Maltese, a semetic language written in the Latin alphabet. Second official language is English. Hence you shouldn't have difficulties to make yourself understood.